Admissions
All admissions for this school (excluding Nursery) are organised centrally via the London Borough of Newham who is the Admission Authority. Application forms are available online or through contacting the council 020 8430 2000.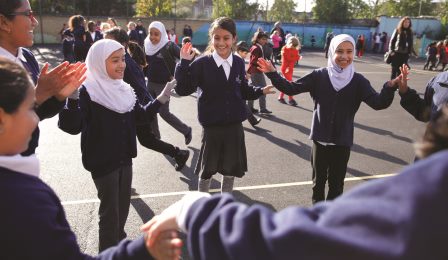 At Kensington Primary School we recognise that choosing the right school for your child is extremely important and that each school has its individual characteristics.
We welcome visits by parents or carers and the child/ren to view the school and for discussions with the Head Teacher.
Parents are requested to contact the school to arrange an appointment on 020 8470 2339.
Nursery and Reception admissions in September accept children born between 1st September and 31st August. Admissions forms and school information packs can be obtained from the school office.
Pupils are admitted to the school in line with the London Borough of Newham Admissions Policy.
We have included a number of links below to help you apply for a school place for your child.
The Local Authority's Determined Arrangements have been adopted by the governing body of this academy/multi academy trust.
Determined Admission Arrangements - September 2020
The law requires that all schools must have admission arrangements that clearly set out how children will be admitted, including the criteria that will be applied if there are more applications than places at the school. Admission arrangements are determined by admission authorities.
All admission authorities must determine (i.e. formally agree) admission arrangements annually, even if they have not changed from previous years and a consultation has not been required. Admission authorities must determine admission arrangements for entry in September 2020, by 28 February 2019. London Borough of Newham is the admission authority for our school and we have formally agreed to adopt the LB Newham's admission arrangements for September 2020.
For any proposed changes to the existing determined arrangements a formal consultation must take place and must be for a minimum of 6 weeks and must take place between 1 October and 31 January of the school year before those arrangements are to apply. For example: for arrangements which are to apply to applications in 2019 (entry in September 2020), consultation must be completed by 31 January 2019. This consultation period allows parents, other schools, religious authorities and the local community to raise any concerns about proposed arrangements. We did not propose any changes for 2020 as our changes were made and consulted upon for entry in September 2019
https://www.newham.gov.uk/Pages/ServiceChild/School-admissions-statutory-consultation.aspx#Previousconsultations
Please click here to see the PDF explaining the Determined Arrangements for the school year starting in September 2020.
You can be object to these arrangements or the arrangements of any school by referring to the Office of the Schools Adjudicator. Objections to admission arrangements for entry in September 2020 must be referred to the Adjudicator by 15 May 2019. Any decision of the Adjudicator must be acted on by the admission authority and admission arrangements amended accordingly.
The London Borough of Newham is the Admission Authority for this school who organise all admissions centrally. Application forms are available online or through contacting the council 020 8430 2000.
Admission for entry from September 2018/19
LB Newham Primary School Admissions web pages click here
'In Year' School Admissions Application – aka mid term or mid phase click here
Primary (Reception) admission for entry from September 2019
This applies to children born 1 September 2014 to 31 August 2015. The national closing date for applications was Monday 15 January 2019.
If you have not applied yet, you can still complete an application. The sooner you do this, the better chance you have of a getting a place at one of your preferred schools.
Places available in our Nursery for September 2019
If your child is born between 1st September 2015 to 31st August 2016 and you would like for them to attend our outstanding Nursery please collect the application pack from the school's office and return it by 31st March 2019. You can also download the application pack below that can be submitted via the school email address info@kensington.ttlt.academy together with your child's full birth certificate, passport (if they have one) and two proofs of your home address (tenancy agreement, council tax, gas/electricity bill, bank statement).
Our Nursery provides excellent resources that will enable your child to develop in all areas of learning and prepare them for main school.
Useful links for all school admissions
If you have any further queries or questions relating to admissions, please contact the school and our Admissions Officer will be happy to help you.