Admissions
At Kensington we currently have spaces available in all the year groups.
If you require a school place for your child please refer to application guidelines below or contact us at info@kensington.ttlt.academy
For parents who are considering places for September 2022 in Nursery or Reception, please get in touch at: info@kensington.ttlt.academy and we would be delighted to arrange a visit for you to see the school and speak to us about what your child and yourselves can expect from a Kensington experience.
---
All admissions for this school (excluding Nursery) are organised centrally via the London Borough of Newham who is the Admission Authority. Application forms are available online or through contacting the council 020 8430 2000.
At Kensington Primary School we recognise that choosing the right school for your child is extremely important and that each school has its individual characteristics.
We welcome visits by parents or carers and the child/ren to view the school and for discussions with the Head Teacher.
Parents are requested to contact the school to arrange an appointment on 020 8470 2339.
Nursery and Reception admissions in September accept children born between 1st September and 31st August. Admissions forms and school information packs can be obtained from the school office.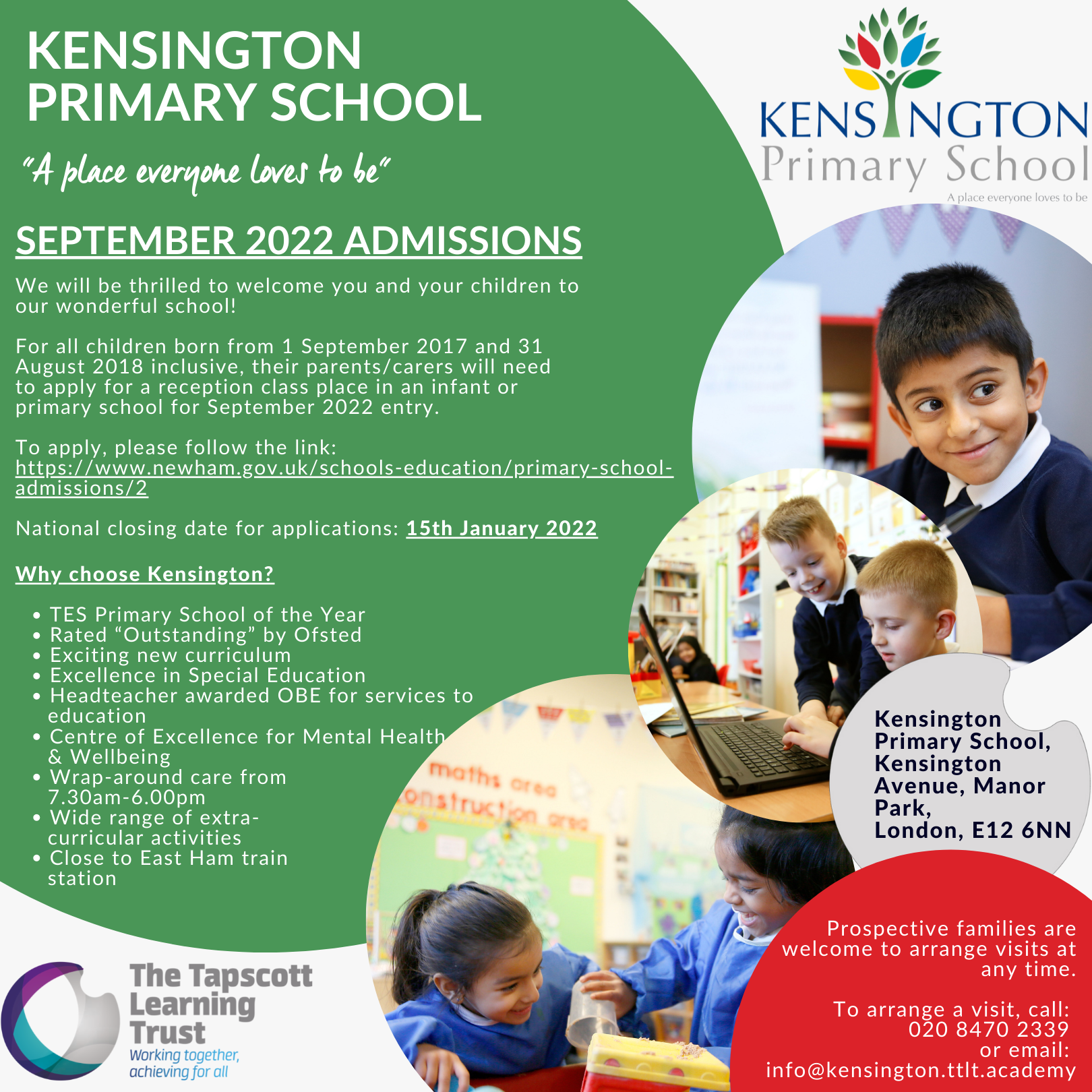 Pupils are admitted to the school in line with the London Borough of Newham Admissions Policy.
We have included a number of links below to help you apply for a school place for your child.
The Local Authority's Determined Arrangements have been adopted by the governing body of this academy/multi academy trust.
Determined Admission Arrangements - September 2022
The law requires that all schools must have admission arrangements that clearly set out how children will be admitted, including the criteria that will be applied if there are more applications than places at the school. Admission arrangements are determined by admission authorities.
All admission authorities must determine (i.e. formally agree) admission arrangements annually, even if they have not changed from previous years and a consultation has not been required. Admission authorities must determine admission arrangements for entry in September 2022, by 28 February 2021. London Borough of Newham is the admission authority for our school and we have formally agreed to adopt the LB Newham's admission arrangements for September 2022.
For any proposed changes to the existing determined arrangements a formal consultation must take place and must be for a minimum of 6 weeks and must take place between 1 October and 31 January of the school year before those arrangements are to apply. For example: for arrangements which are to apply to applications in 2021 (entry in September 2022), consultation must be completed by 31 January 2021. This consultation period allows parents, other schools, religious authorities and the local community to raise any concerns about proposed arrangements. We did not propose any changes for 2022, the most recent changes to our admission arrangements were detailed in the Statutory Consultation for 2019 entry onwards.
In July 2021 the Government published a new School Admissions Code, as a result all admission authorities in England had to update their previously determined arrangements to comply with the new statutory changes. These changes are now included on our admission arrangements for September 2022 below.
https://www.newham.gov.uk/schools-education/determined-admissions-arrangements-september-202223
Please click here to see the PDF explaining the Determined Arrangements for the school year starting in September 2022.
You can object to these arrangements or the arrangements of any school by referring to the Office of the Schools Adjudicator. Objections to admission arrangements for entry in September 2022 needed to be referred to the Adjudicator by 15 May 2021. Any decision of the Adjudicator must be acted on by the admission authority and admission arrangements amended accordingly.
The London Borough of Newham is the Admission Authority for this school who organise all admissions centrally. Application forms are available online or through contacting the council 020 8430 2000.
Fair Access
The law requires that each local authority must have a Fair Access Protocol (FAP), agreed with the majority of schools in its area to ensure that for In Year admissions unplaced children, especially the most vulnerable, are offered a place at a suitable school as quickly as possible. In agreeing a protocol, the local authority must ensure that no school - including those with available places - is asked to take a disproportionate number of children who have been excluded from other schools, or who have challenging behaviour. Kensington has signed up to the LB Newham's Fair Access Protocol.
Admission for entry from September 2022/23
If your family arrives in Newham during the school year 2022/2023 and your child needs a school place in the borough you must complete an In Year form, and you are usually given a place within 10 days.
The place offered may not be at the school you prefer as that school may not have a suitable place available.
In Year Admissions for September 2022 to August 2023 (Year Groups Reception to Year 6)
LB Newham In Year School Admissions web pages click here
In Year school application form (all year groups) for September 2022 to August 2023 click here
Determined Admission Arrangements for September 2022 onwards entry click here
Primary (Reception) admission for entry from September 2023
If your child was born between 1 September 2018 and 31 August 2019, you will need to apply for a reception class place in an infant or primary school for September 2023.
If your child lives in Newham you will need to apply via London Borough of Newham. But if your child lives outside Newham, but you want him or her to go to school in Newham, you will need to apply through the local authority in the borough you live in.
Remember, you must always apply for a place, even if your child:
Already attends the nursery of your preferred school OR
They have a brother or sister who attends the schools
The national closing date for on time reception applications is 15thJanuary 2023.
National offer date for on time reception applicants is 17th April 2023.
Places available in our Nursery for September 2023
If your child was born between 1st September 2019 to 31st August 2020 and you would like for them to attend our outstanding Nursery, please fill in an online application form NURSERY APPLICATION FORM and submit it by 31st March 2023. You can also request Nursery Application Form to be emailed to you by sending the school an email to info@kensington.ttlt.academy.
Once you have submitted the application form we will contact you via email to request any further documentation we require to support your application (child's full birth certificate, passport (if they have one), two proofs of your home address (tenancy agreement, council tax, gas/electricity bill, bank statement), parent's passports and any documentation you have, if your child has ever been seen by LCIS, West Ham Lane or Child Development Team).
We also offer a limited number of 30 hour places for eligible families. These will be allocated on a first come, first serve basis. If you require and are eligible for a 30 hour place, you must provide your 30 hour code with your application form.
To find out more about childcare options available to you please visit Newham's Family Information Service website: Free early education for three and four year olds
Our Nursery provides excellent resources that will enable your child to develop in all areas of learning and prepare them for main school.
Useful links for all school admissions
If you have any further queries or questions relating to admissions, please contact the school and our Admissions Officer will be happy to help you.